The Broan 678 Ventilation Fan & Light Combination is rated 2.5 sones and 50 CFM to make a useful option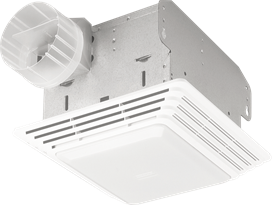 to eliminate humidity in the home. Beyond the extra airflow, this unit is also built with a useful light to help illuminate any room.
Whether you are looking to clear steam from the kitchen, fumes from the workshop, or smoke from the rec room, the Broan 678 makes a very economical ventilation option.
Features You'll Value
Good quality and relatively quiet, the Broan 678 Ventilation Fan & Light Combination is a great piece of kit that will do  well in any newly renovated property. Let's take a look at a few of its most interesting features:
Installation flexibility
The Broan 678 is designed to be easy to install with key-holed mounting brackets that are very sturdy and give the accurate installation. The duct fitting will not create any metallic clatter. For the ceiling installation, a pitch of 12/12 is desirable, while a minimum construction space of 2 inches by 6 inches is necessary.
Quiet operation
The 2.5 sones rating means this fan has the ability to deliver on relatively quiet operation. Even when it is operating at full power, the fan still doesn't give out the type of noise that will distract you.
Airflow efficiency
The airflow efficiency rating is 50 CFM which is sufficient to clear the build up of steam in the smaller sized bathrooms. Also, this model of ceiling fan is available with the higher CFM limits, which includes 80, 110 and 150.
For bathrooms up to
Use this ceiling fan in the smaller bathrooms with a size in the region of 60 square feet.
Style and design
This ceiling fan incorporates a built-in light-diffusing lens that is shatter-resistant and has the ability to accept an incandescent bulb up to 100-watt.
Safe & efficient
The Broan 678 is built to be safe and efficient to operate in the humid environments. It is rated to install over a shower or bathtub provided it is connected to the proper GFCI-protected branch circuit. Other useful features include the polymeric fan impeller and permanently lubricated motor.
Pros
Classic white and simple grille design
Permanently lubricated motor for long lasting performance
Very strong 100-Watt light
Installation is a straightforward process
Great fan for the price
Cons
Not the most inspiring design
It is possible to find quieter units
Conclusion
Overall, for a budget exhaust fan, this unit has the ability to move a decent amount of air and the noise level isn't that bad. The installation is fairly easy for the avid do-it-yourself enthusiast; there is no need use an electrician to complete the set up. For the price of this bathroom fan it is surprisingly quiet, but there is still the option to get the much quieter unit if you are willing to invest a little extra. The styling of this fan is pretty typical to other choices in the market. However, it is finished in brilliant white, which make to easy to go with most decorating styles.