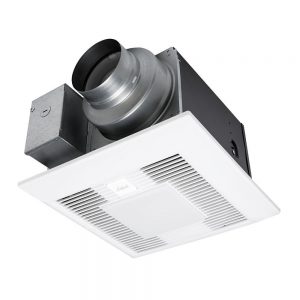 Welcome to bathfanreview.com.
Here we will review some of the most popular and best rated bathroom ventilation fans on the market today. Each has its own unique style, features, and options.
A good bath fan is hard to choose because there are so many different brands, styles, CFM's , night lights, and heat options available. There is no one size fits all, and every bath fan should be tailored to your exact needs.
Things to consider when purchasing a new ventilation fan:
• Room Size: The Home Ventilating Institute recommends  a minimum of 50 CFM and at least 1 CFM per square foot If your bathroom has a ceiling higher than 8′ then you would multiply the width x length x height of the room, divide by 60 (minutes in an hour) then multiply by 8 (number of air exchanges per hour). So a 10×10 room with 10′ ceilings would need a 150 CFM fan:
10x10x10 = 1000
1000 ÷ 60 = 16.66
16.66×8 = 133 CFM rated vent fan and I would round up to 150 CFM
• Sound Level: Pick a fan you wont mind listening to for 25 minutes or more. 10 minutes for the shower and and additional 15 minutes to properly remove all the excess moisture. Bathroom vent fan sound levels are measured in sones:  a very quiet bathroom fan will have a sone rating of 1.0 sones or less. 0.5 sones would be like the sound of leaves blowing; 1.0 sones is the sound of a refrigerator running; 3.0 sones is typical office noise; and 4.0 sones would be the sound of a television.
• Mounting Options: Typically ceiling mounted fans are most common and are the easiest to install, however, depending on your house style, inline or wall mounted fans may be necessary. If you are attempting to do this yourself make sure you turn off the breaker that control's the fan circuit. In most older homes the panel is not marked very well so it is best to turn on the fan and shut one beaker off at a time until it goes out. Refer to the instruction manual for each  manufactures installation guidelines and wiring diagrams. Please see my How to Install a Bath Fan page for a general overview.
• Special Features: Bathroom fans are available with many optional features such as lights, night lights, heaters, motion sensors, humidistats and timers. Some even come with a built in speaker such as the Broan SPK110 Sensonic Speaker Fan with Wirelesss Technology.