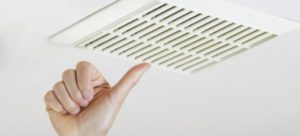 If you're a homeowner, you're probably looking for ways to cut back on your heating and cooling bills, given the increasing costs of gas and oil. Space heaters are one of the great cost efficient options to heat up certain areas of your home including your bathroom, and to explain briefly work by blowing warm air into the room where they're placed.
But buying a space heater to enjoy warmth in your bathroom is also an additional cost, and yet another device to add to what may be an already crowded bathroom. Adding to this, space heaters aren't the quietest devices to say the least, and when set in an area with a bathroom fan installed can be quiet annoying.
But what if you could have the best of both worlds from a single device installation i.e. heating and ventilation? You can with a bathroom exhaust fan heater! Bathroom fan heaters provide all the functionality if a traditional exhaust fan, but add heat to the mix, so you stay warm, without wasting cash on extra heaters, etc. to do so.
5 Key Reasons to Install a Bathroom Fan Heater    
1. Gets rid of moisture and odors from the air
Just like conventional bathroom exhaust fans, bathroom fan heaters are designed to remove moisture from the air, and eradicate humidity in your bathroom. Excess moisture in your bathroom when accumulated over a long period of time can fog your mirrors, and over the long term can cause growth of mold and mildew, resulting in damage to the area.
Mold and mildew can also make your floors slippery, consequently creating a dangerous and uncomfortable experience each time to step in to your bathroom. Bathroom fan heaters contain two main components — fan and heating element.
The integrated fan of the device draws the moisture of the air, and then releases it outside through your home's duct tube system. Another noteworthy benefit of bathroom fans with heater is their ability to get rid of odors from your space such as tobacco smoke, etc., so your bathroom smells fresh when you use it.
2. Keeps you nice and warm
One of the biggest reasons to have a heater in your home is to keep you warm when temperatures are low. Most bathroom fan heaters are fitted with an infrared element that heats up quickly, making them an ideal choice for small spaces such as bathrooms.
The best part is that they do not provide a surge of heat, which can make you uncomfortable, and cause skin irritation. If you'd like to feel warm as soon as you enter your bathroom, you can switch on the bathroom fan heater a few minutes before you walk in just like preheating an oven.
3. Keeps fixtures and mirrors dry
This is where you need to pay attention, especially if you have expensive fixtures in your bathroom. Fixtures that are wet with condensation can attract mold and mildew, which can cause permanent damage.
While traditional bathroom fans do help towards getting rid of moisture, condensation and humidity, bathroom fan heaters do a much better job towards preventing your fixtures such as mirrors from fogging up, and keep your toilet and sink as dry as possible. Having less mold and mildew buildup also makes it easier and quicker to clean your bathroom.
4. Affordable to buy and run
Regardless of whether you're buying a new exhaust fan or replacing an existing model, the best bathroom fans with heater can save you some serious cash in the long term, especially if you live in chilly slices of the country. Furthermore, the difference in prices between a traditional bathroom fan and one with heater is minimal, so maybe even replacing all your home exhaust fans with heater is a wise idea.
5. Easy to install
Since the heating element is enclosed within the housing of the bathroom fan heater, there are no additional components to wire, so the installation is straightforward. If you're a DIYer, installing a bathroom fan with heater should take no more than an hour with a few basic tools. But if you don't know your way around, it's better to get professional help.
How to Install a Bathroom Fan Heater?  
Before buying and installing a bathroom fan heater, you first need to measure your space. This will help you determine the amount of heat to create, and noise level.
Removing your existing bathroom fan
Before installing your new bathroom heater fan, you need to remove the existing device.
Head to your circuit breaker panel, and shutoff the electricity.
Pinch the springs locates alongside the grille panel to remove it.
Disconnect the fan motor.
Remove the plate covering the motor, and disconnect the house wiring.
Using a screwdriver, remove the entire fan from the joists.
Installing a bathroom fan heater
First thing to do before installing your bathroom fan heater is to calculate the circuit load. If you're unsure of the total circuit load, call in a professional, as guesswork can result in shorts and electrical fires.
Get started by heading to your attic to remove the old electrical cables, and disconnecting the ones off the old fan.
Next, remove the air ducts, and fasteners from the joints.
Do not remove the electric cables, but remove the existing bathroom fan if you haven't done so already.
Lastly, follow the manufacturer installation instructions on the package to install your new bathroom fan heater. Installing a bathroom fan heater takes roughly an hour when done correctly.
Final Thoughts:
An exhaust fan is a must have device in any bathroom as it offers myriad benefits including removing odors, and venting moisture that when accumulated can cause damage to your walls, ceilings, and fixtures. Moisture buildup can also serve as a breeding ground for mold and mildew.
But if you're going to install an exhaust fan, you should consider installing a bathroom fan heater combo as you will get both heat and ventilation functionality from a single multifaceted device.