The Broan QTXE080 Ultra Silent Bath Fan has the ability combine the useful qualities of performance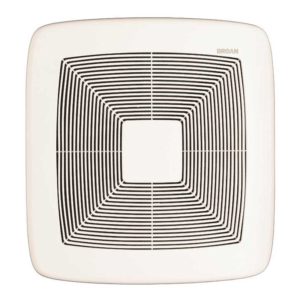 power with extremely quiet operation. The QT Series of ceiling fans offered by Broan include their quietest units that will not distract or annoy which in use in the bathroom or shower room.
Features You'll Value
Virtually quiet operation, the Broan QTXE080 Ultra Silent Bath Fan is a top quality piece of equipment that is very effective at eliminating humidity issues in the bathroom. Let's take a look at a few of its most pleasing qualities:
Installation Flexability
Installation is relatively quick and easy for those with basic knowledge of this type of handyman work. It is built with convenient hanger bars for the universal installation in virtually all construction types. Also, a space of at least 2 inches by 8 inches is necessary and a 6 inch diameter is needed (most old systems have a 4 inch duct).
Quiet operation
With a sones rating of 0.3, the Broan QTXE080 is designed to give the near silent operation which means it is unlikely to be noticed even when in full flow.
Airflow efficiency
The air efficiency for this ceiling fan is 80 CFM which is well above the minimum requirement to keep the bathroom clear of steam/moisture issues. Also the built-in motor is engineered to operate on a continuous basis to ensure the humid air is eliminated from the bathroom at all times.
For bathrooms up to
The  Broan QTXE080 bathroom fan is built to operate in a room up to 75 square feet.
Style & design
The style of this ceiling fan is typical to this bathroom accessory. The white finish should mean it is able to easily blend with most decorating styles and finishes.
Safe & efficient
The Broan QTXE080 is designed to be installed in humid environments and UL listed for use over a shower/tub provided the appropriate GFCI circuit is in place.
Pros
Very effective at moving a lot of air
The operation is relatively quiet
Not too expensive for what you get
Appears to be solidly built with the potential to last for the long-term
Cons
Requires a 6 inch ducting which may slow the installation time; this may be problematic for some
Conclusion
Overall, the Broan QTXE080 Ultra Silent Bath Fan is a very reliable unit that has the potential to move quite a lot of air to eliminate issues associated with steam/moisture in the home. A great quality is the extremely quiet operation that makes it seem like the fan isn't even on – there is no fan blade noise, no rattles, no vibration, and no motor noise. If you are looking to replace an aged fan, you will find this unit to be very efficient and likely to move nearly 55% more air than older fans. While it does have a quite typical style and finish, there shouldn't be any reason why it isn't able to blend with most bathroom decor styles and layouts.