The Hunter Sona 83002 Ventilation Fan has the ability to create an elegant feature in the bathroom with is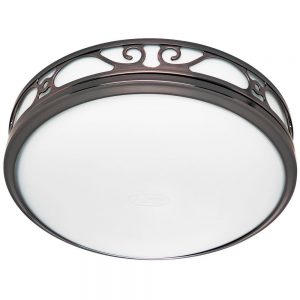 flowing scroll-work, glass, and imperial bronze finish. The actual fan is very effective at removing steam and moisture from the local area to minimize the risk of creating a stuffy and unhealthy environment in the home.
Features You'll Value
Exhaust fan works great, the Hunter 83002 Ventilation Sona is one of the more stylish options to install in the bathroom for improving airflow, and a little extra light. Let's take a look at a few of the most pleasing features:
Installation flexibility
Similar to most other types of ceiling fans, the installation process is relatively straightforward and made a lot easier if access to the overhead area is possible.
Quiet operation
This fan/light combination operates at 3.0 sones which is a useful rating to achieve the relatively quiet option that is less likely to annoy even when the shower is not in use.
Airflow efficiency
This fan is rated with a 110 CFM which is sufficient performance to help eliminate the build up of steam in the small to medium-sized bathrooms. This is essential to avoid issues with humidity and moisture that can lead to odors.
For bathrooms up to
The Hunter 83002 Ventilation is a practical option for the bathrooms up to a size of about 105 square feet. Any steam /moisture building up in a bathroom at this size will easily be cleared to minimize issues related to excess humidity and moisture.
Style & design
This combination fan/light unit by Hunter Home Comfort is one of the more stylish options and features a sophisticated design with a series of flowing scroll-work and imperial bronze finish. This is a great choice for those in search of a ceiling fan that looks a lot better than the typical unit.
Also, this unit can act much-like a night light to give the soft illumination to the bath or shower room. The actual unit accepts 2-A15 60W bulbs and its cover dome is 15 inches in diameter.
Safe & efficient
Provided this ceiling fan is installed with a GCFI circuit, it is fully acceptable to locate in a position over the tub or shower.
Extras
This product by Hunter Home Comfort is given a 5-year limited warranty that should ensure it is able to give the reliable and long-term performance.
Pros
Great looks and a great improvement on the typical bathroom fan; finish is in a beautiful bronze color
Fairy easy installation; packaged with easy to follow instructions
Great all-round functionality
Useful to have the light feature
Operates quietly
Cons
The light may not be bright enough in the larger room
The bracket holding the fan to the ceiling doesn't appear to be the strongest
Conclusion
Overall, the Hunter 83002 Ventilation Sona is more stylish than most bathroom fans and very effective at pulling moisture from the air. Even though it does have the practical light feature, the frosted glass does block quite a lot of this light. But this is the only real issue to mention.