The NuTone 665RP Heat-A-Ventlite Exhaust Fan is an all-in-one solution to provide powerful ventilation,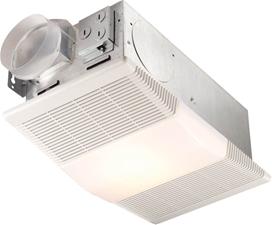 lighting and heating in the bathroom. Each of the different functions works together or independently, and simply controlled at the touch of a button.
This NuTone exhaust fan is a viable option for the smaller bathroom and creates a cost-effective solution to make sure the bathroom is warm and comfortable first thing in the morning.
Features You'll Value
Well made and easy to install, the NuTone 665RP Heat-A-Ventlite Exhaust Fan is a versatile piece of kit for the bathroom or laundry room. Let's take a look at its most pleasing features:
Installation flexibility
Very easy installation, the NuTone 665RP is designed to be quiet and easy to install in the bathroom, kitchen or laundry room. After mounting the unit to the rafters, the setup includes adjustable hanger bars to help with securing the fan in position. Also, the duct adapter has a quiet polypropylene to minimize issues with noise.
Quiet operation
The NuTone 665RP has a sound rating of 4.0 sones, which is quite typical for the economical ceiling fans. However, the heating element of this unit is a little loud and may not appeal to those in search of a truly silent appliance.
Airflow efficiency
The airflow efficiency of this ceiling fan is 70 CFM which is certain to help clear the build up of steam/moisture in the smaller sized rooms.
For bathrooms up to
The preferred room size for ultimate performance is in the region of 65-square feet. Any bathroom or laundry room up to this size will benefit from the even distribution of warm air and ability to easily clear the build up of steam.
Style & design
The NuTone 665RP has a quite simple but effective design that is certain to complete the look in most bathrooms with its white finish. Plus, it has a built in light. This ceiling light is fairly bright with a 100-W bulb (bulb is sold separately)
Safe & efficient
This ceiling fan combination is safe and efficient to use in the humid bathroom and HVI Certified.
Pros
Useful for warming up the bathroom
Relatively easy install and set up
Clean finish in white
Safety inspected
Cons
A little noisy with a 4.0 sones rating, but still works perfectly fine
Conclusion
Overall, the NuTone 665RP Heat-A-Ventlite Exhaust Fan is a practical option for those wanting a fan, heater, and light all-in-one unit. It is very convenient with all three features and it seems to be solidly built to give longer lasting performance. The actual process of installing the modern fan is quite straightforward and most of the electrical components are high-quality. Providing the fan is installed in the right sized room, there shouldn't be too much difficulty in venting the built up steam and moisture. For many it will be more cost-effective to buy this complete unit than to look at two or three separate units for the bathroom. While the NuTone 665RP isn't able to give the top all-round performance, it is reasonably priced and dependable for what you invest.