The Broan Nutone 682NT Duct-Free Ceiling/Wall Fan is the only option available for a ventless bathroom fan. There are two versions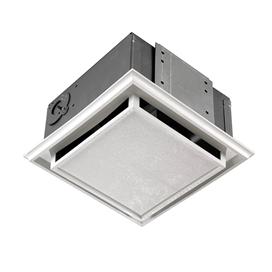 of this charcoal operated ductless vent, the Broan 682 and the Nutone 682NT. Both these fans are exactly the same, and made by the same company. The only difference is the branding on the label.
Features of Broan-Nutone 682 Duct Free Fan
Grille
White Polymeric blends with most decor
Torsion spring mounting clips – no tools required
Square 8.5″ x 8.5″ self adjusting and conceals fan interior
Housing
Mounts easily to 2×4 or larger framing
Long lasting charcoal filter is easy to replace
Patented snap in mounting bracket saves time
Installs in both Walls and Ceilings
Motor
Plugin removable, motor assembly
Polymeric impeller
Where to Use
The Nutone 682 ductless bathroom exhaust fan is suitable use in half baths, hallway bathrooms, basement bath rooms or even closets. This vent free fan can be used in any location where moisture or humidity is not a concern and where true ventilation is not needed or where ducting is impossible.
The Broan Nutone ventless bathroom fan circulates air past a replaceable Activated Charcoal Filter to continually cycle the air in enclosed spaces.
My Opinion
Broan Nutone 682NT Duct-Free Ceiling/Wall Fan is really only made to eliminate odors when conventional venting or ducting is not possible. It cannot be used in rooms where there is a bathtub or shower because it will not remove moisture and humidity. However, if your adding a half bath in a hallway or condo and a fan is required but venting is impossible, this duct free exhaust fan should meet the building code.
I'm going to give this fan a 5 out of 10, not because its a good fan, but because it is the only duct-free bathroom fan available anywhere and it does serve a purpose.