Panasonic FV-20VQ3 WhisperCeiling 190 CFM Ceiling Mounted Fan Review. Recently, I had a customer that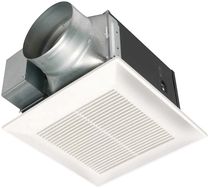 requested an exhaust fan for his Man Cave. In his basement Man Cave he had a fireplace and a "Marijuana Smoking Area" that needed ventilation to remove any smells and smoke. I recommended and installed a Panasonic FV-20VQ3 WhisperCeiling Ventilation Fan.
The Panasonic FV-20VQ3 Exhaust and Bathroom fan is a 190 CFM high air flow fan that is ultra quiet and has these amazing features:
Panasonic FV-20VQ3 Fans are so quiet you may not know its on.        They feature a totally enclosed condenser AC motor and a double-tapered blower wheel to quietly move air-even at twice the static pressure as the industry standard.
Continuous, Trouble-free Operation for Many Years
This fan is designed to give you continuous, trouble-free operation for many years thanks in part to its high-quality components and permanently lubricated motors. Also, Panasonic fans use less energy to move larger volumes of air than other brands. Consequently, Panasonic fans run cooler so they last longer.
User-Friendly Installation                                                                                                                   WhisperCeiling large volume fans feature a 6 in. duct adapter and fit in 2×8 construction. The double hanger-bar system (expandable up to 24 in.) is ideal for positioning the fan exactly where you want it. Panasonic fans are UL listed for tub/shower enclosure (just install them on a GFCI-protected circuit).
ENERGY STAR® Certified                                                                                                                                       Panasonic ventilation fans are ENERGY STAR® certified, where guidelines exist. ENERGY STAR® vent fans meet strict parameters set by the US Environmental Protection Agency (EPA). They provide better efficiency and comfort with less noise, and feature high performance motors and improved blade design, providing better performance and longer life.
My customers installation was in a suspended ceiling and was vented directly outdoors with an 8′ length of ducting. The mounting brackets that came with the fan were not really made to be used with a suspended ceiling, so we used some 2×4's to build a frame to mount to. Other than that, the Panasonic Fv-20VQ3 was very easy to install. It was controlled by a single pole switch that we installed on the wall close to the fan location.
When we first put on the fan my customer was amazed at how quiet it was and wasn't sure if it would be powerful enough. I told him to not let the lack of noise fool you, give it a try tonight. The next day he sent me a text "Worked like a Charm!"