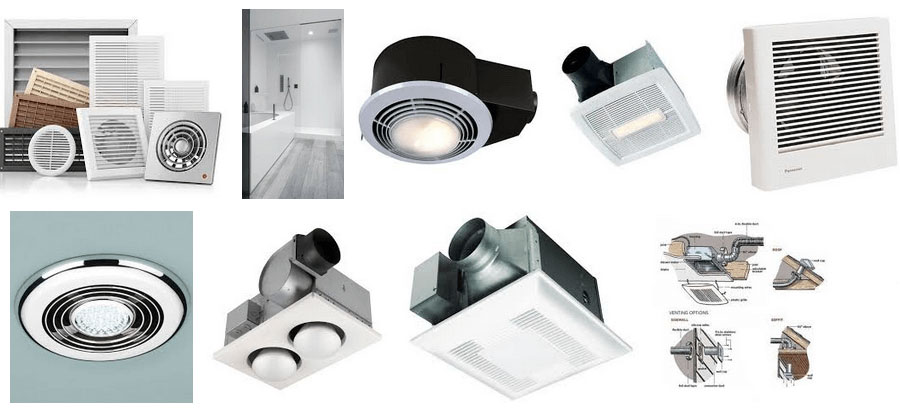 Taking long showers is undoubtedly a great way to relax especially after a tiresome 9 – 5 workday! But taking those glorious showers, however bliss they may feel, can prove detrimental to your building materials including drywall and wood framing, owing to the high amount of steam and humidity generated in a concentrated space.
This surge in humidity and moisture creates a perfect breeding ground for mold and mildew, and in worse cases can take a toll on your indoor air quality. And poor indoor air quality can be a major issue at any time of year, mostly in spaces such as bathrooms during the winter months when the windows are sealed up tight.
How can a Bathroom Exhaust Fan Help?
Installing the best bathroom fan is a great way to get rid of stale air, mold spores, humidity and mildew, and considerably improve the overall indoor air quality in your home. These small and unobtrusive workhorses are typically available in myriad different styles – wall mounted bathroom fans, exterior bathroom fans, inline/remote and ceiling mounted bathroom fans.
Different Styles of Bathroom Fans
Ceiling mounted bathroom exhaust fans – this range of exhaust fans is usually installed in bathrooms that are located upstairs. As you might've guessed, they are to be mounted in the ceiling of your bathroom, and generally use a hole in the house's attic to push the stale air out.
Wall mounted ceiling fans – these fans when installed properly on the wall of the house let fresh air inside, and stale air outside.
Exterior bathroom fans – similar to wall mounted fans, exterior mounted fans are placed on the outside wall of your house, and offer quiet operation.
Inline bathroom fans – inline fans are a bit tricky to install, since they are mounted in between the ducting, and expel the bad air via the ducts.
What Bathroom Fan is Best?
Air flow capacity – when trying to determine what bathroom fan is best, the first, important aspect to consider is the size of your space, and CFM rating of the respective fan model. The last thing you want to do is install a weak, undersized fan, hence it is important to consider how bathroom fans are sized, and how to buy the best capacity for your area.
CFM – acronym for cubic feet per minute is basically the rating for the amount of air a particular bathroom fan can move. This rating applies to bathrooms that are 100 square feet or less, which is roughly the size of a large size bathroom. The Home Ventilating Institute recommends providing one CFM per square foot of bathroom area, or a minimum of 50 CFM.
To put these numbers in perspective, if your bathroom measures 80 square feet, you should install a bathroom fan rated at least 80 CFM. If you do have an expansive bathroom, one that measures 100 square feet or more, you should size the bathroom fan according to the number of fixtures in the room such as a 100 CFM fan if your bathroom just has a shower and a toilet.
Calculating the square footage of your bathroom is easy, where you multiply the length by the width, so 10 feet by 8 feet equates to 80 square feet, and 10 feet by 10 feet is 100 square feet. It is always a good idea to oversize the fan slightly, and install a second bathroom fan if the toilet or shower area is enclosed by a door.
Noise level – sones is the industry standard for measuring the amount of sound a fan makes, so the lower the rating, the quieter the fan will be. Bathroom fans rated between 0.5 to 1.5 sones are extremely quiet, whereas models rated in excess of 4.0 can wake up the neighbors when in use.
Energy Efficiency – bathroom fans that earn an Energy Star meet stringent energy efficiency criteria set by the set by the US Environmental Protection Agency or the US Department of Energy. In terms of bathroom fans, models that are Energy Star rated use about 60 percent less energy than standard fans.
Features to consider when Choosing the Best Bathroom Fan
Integrated lighting – buying a bathroom fan with light gives you the best of both worlds – lights up the bathroom, and provides ventilation from the same fixture. This allows you to use the existing wiring and switch, so you have to don't have to add supplementary lighting.
Further, if your bathroom fan and bathroom light are installed separately, you will have to install a wider switch with two or more controls to operate them. Some of the best bathroom fans with light models include night lights for soft illumination during nighttime hours.
Integrated heaters – if you'd like a little warmth in cold weather, consider installing a bathroom fan with a built-in heater. Bathroom fans with heaters are fitted with either infrared heat lamps or metallic heating elements to provide heat when things get frosty.
Humidity and motion sensors – bathroom fans embedded with motion sensors improve the overall efficiency of the model, and help conserve energy. With an onsite motion sensor, the bathroom fan with turn on only when it senses a rise in humidity level, and then switches off automatically when the humidity level is reduced.
Final Thoughts:
Buying the best bathroom fan is not something you should be doing often, which is why it is important to consider the aforementioned advice before making an investment. Even though there is no one size fits all design, you should first measure your bathroom space to ensure you choose a bathroom fans that's a perfect fit.
When choosing the best bathroom fan, it is wise to buy a model with just the features you need such as lighting, heat and sensors, because the more features you opt for, the higher the price tag. With regards to bathroom fan installation, you can either do it yourself if you absolutely know your way around, or call in professional help to ensure it is done right the first time.