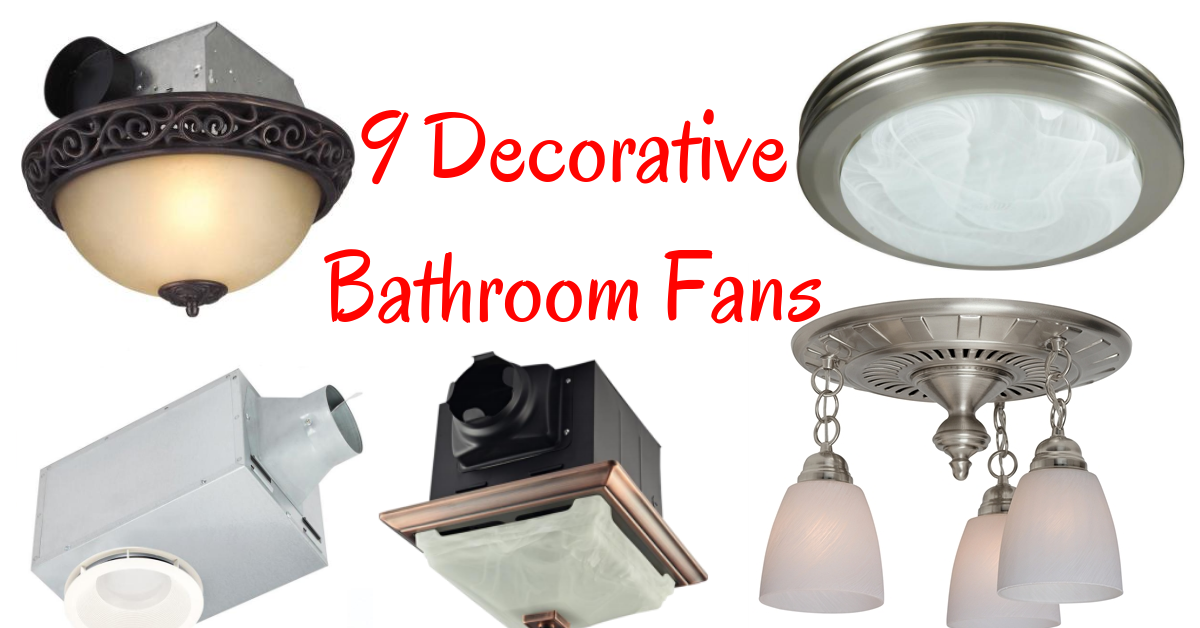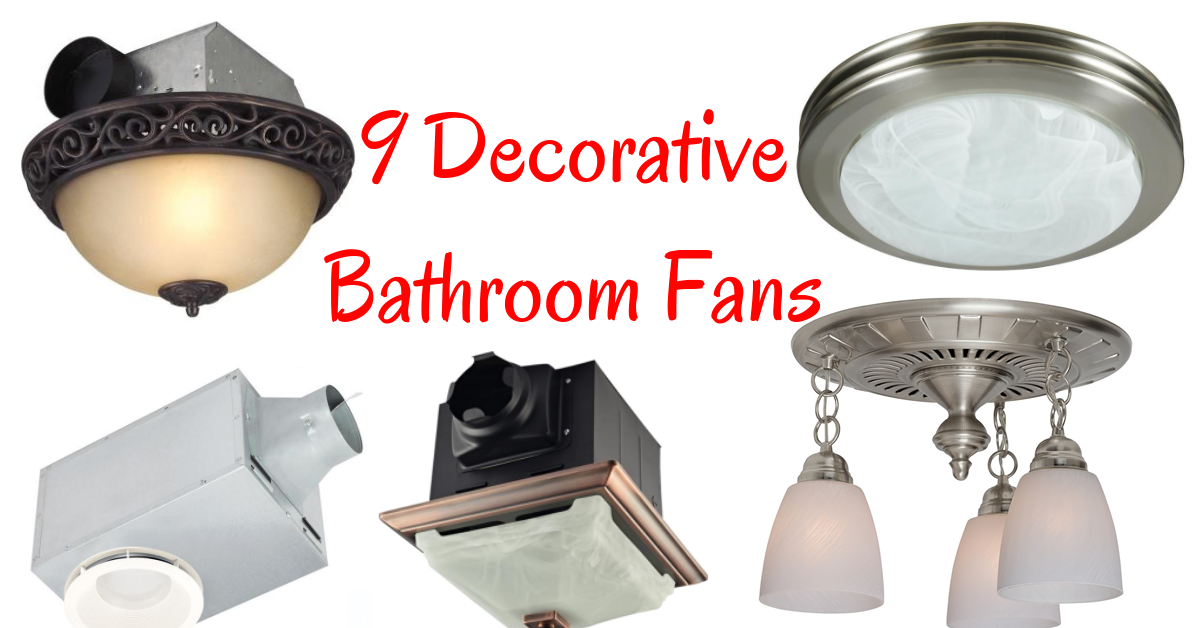 As an electrician, I am constantly being asked "What is the best Bathroom Fan?", "I want a bathroom fan that doesn't look like a bath fan", "Which Bathroom Fan is the quietest?". I can certainly give my opinion on what I like, but the customer may not like the same styles that I do. That's the reason I started bathfanreview.com. As you can tell by the website design that I am by no means a professional website builder, so please try and look past the crudeness. In this article I will try to show some of the Best Decorative Bathroom Exhaust Fans in 2019. I will list these in no particular order.
1) Hunter 83002 Ventilation Sona Bathroom Exhaust Fan with Light
The Hunter Sona 83002 Ventilation Fan has the ability to create an elegant feature in the bathroom with is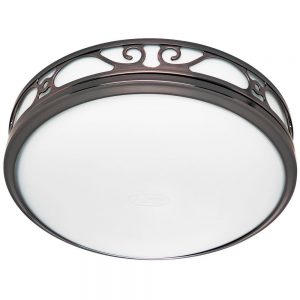 flowing
scroll-work, glass, and imperial bronze finish. The actual fan is very
effective at removing steam and moisture from the local area to minimize
the risk of creating a stuffy and unhealthy environment in the home. You can read the full review here or check out the current price on Amazon here.
2) Lift Bridge Kitchen & Bath DSQR110ORB Decorative Oil Rubbed Bronze 110CFM Ceiling Light and Glass Globe Exhaust Bath Fan
The Lift Bridge Bathroom Fan has an impressive 110 CFM rating and is suitable for bathrooms up to 125 square feet. It has a frosted glass globe and the metal frame has an oil-rubbed bronze finish It requires (2) light bulbs that are not included. I would recommend installing LED bulbs to make this fan more efficient.
I can honestly say I have yet to install one of the fans and will be on my list to test because it has received very good reviews on Amazon.
3) Broan 761BN Decorative Ventilation Fan with Light, 80 CFM 2.5 Sones, Brushed Nickel and White Opal Glass
The Broan 761BN Decorative Ventilation Fan with Light has the ability to remove humidity from the bathroom
quickly
and operates with very low noise. It is rated with 2.5 Sones and gives great flexibility in installation. The contemporary style of the fan/light combination means it can easily complement the look of most shower or bath rooms. Plus, it can easily operate as a light alone when it isn't necessary to use the ventilating feature.You can read the Full Review Here or Check the Current Price on Amazon.
4) Air King DRLC702 Round Bath Fan with Light, Nickel
This bathroom fan is an economy decorative fan. I would only recommend this fan for people on a budget, fix and flippers, or rental properties. It has a 70 CFM Rating at a very loud 4 sones.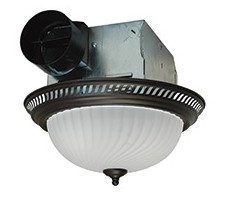 It requires (2) A19 60 watt bulbs. It looks more like a ceiling light than a fan which is pretty cool but would not be my 1st choice. Check the price on Amazon
5) Craftmade Lighting TFV70L-AIORB Decorative Bathroom Exhaust Fan, Iron Scroll Oil Finish
Craftmade is known for making quality products and this fan looks great. That being said, I have never installed one of these and for the price I cannot recommend this product.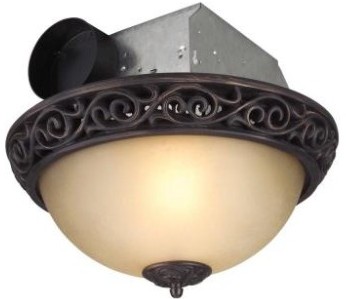 TFV70L model has a 70 CFM rating and is still pretty loud at 3-3.5 sones. I think you could do much better with a different manufacturer. Still interested then you can check the current price here.
6) Hunter Home Comfort 90053 Hunter Saturn Decorative Bathroom Ventilation Fan with Light in Brushed Nickel
The Hunter Saturn decorative bathroom fan with light features an brushed nickel frame with frosted marble shade. It provides superior air movement to remove excess moisture from your home and away from your family before it creates an unhealthy environment. Uses 2x A15 60-Watt bulbs (not included).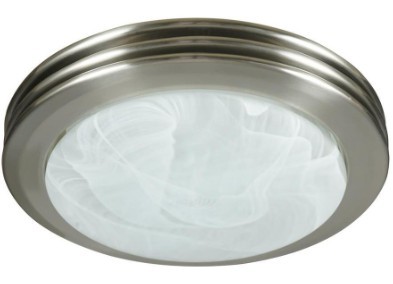 It has an 80 CFM rating and a reasonable 2.5 sone sound level. For the price I think this fan is a much better value others in its class and it has a very unique design. Check the current price on Amazon.
7) Delta BreezRecessed REC80LED 80 CFM Exhaust Bath Fan/LED Light and Night-light
BreezRecessed REC80LED (80 CFM) is the only recessed fan/LED light and night light on the market with energy-efficient and brushless DC motor for energy savings and long life.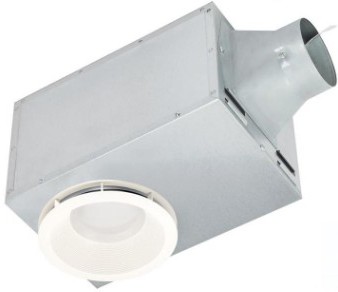 This fan has a 80 CFM rating and is one of the few recessed light looking fans that also has a nigh light, which is a great feature when you have younger children in the home. This fan also has a 1,5 sone rating which is very low. I would definitely recommend this fan and light combo and I usually use these fans over a shower or tub. Check the current price on Amazon.
8) Aero Pure AP 90-SL G6 W Slim Fit Bathroom Fan with 13W LED 2700K Light Pad, TrueWhite Finish
Aero Pure Slim Fit bathroom fan has an 8 Watt 2700K 800 Lumens LED light. Practical and energy efficient, Aero Pure Slim Fit Fans with LED Lights fill your bathroom with warm natural light, feature a contemporary low profile grille in three easy care finishes, and operate at an exceptional low noise level.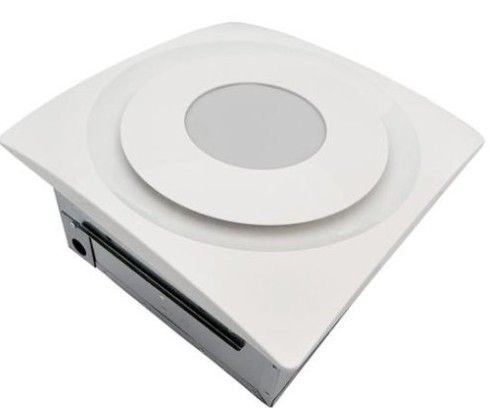 Aero Pure Slim Fit fans are designed to fit shallow construction 2" x 6" or greater and are approved for installation in an insulated ceiling. Our detachable 4" to 6" round duct adapter makes duct layout easier. The fan and light may be wired separately. Also available with Humidity Sensor to take the guesswork out of how long to run the bath fan. This fan has many features that I like, however, I have never installed this fan. This is a model that will be on my list to review. If anyone has used this fan please leave a comment with your opinion. This is the current price on Amazon.
9)
Hunter 80705 Garden District Brushed Nickel Bath Exhaust Fan and Light (Vent)
The Hunter 80705 Garden District Fan and Light Series is one of my favorite styles if your looking for a bathroom exhaust fan that doesn't look like one. It looks more like a hanging ceiling light than a fan. This is different than most decorative as this one has the lights hanging down giving it a more elegant appearance.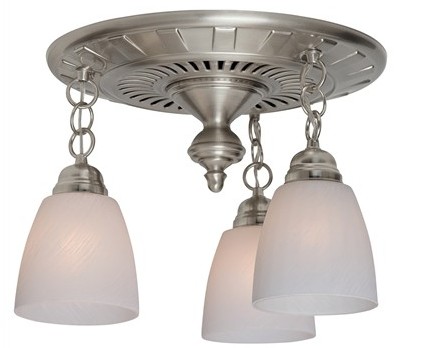 This Fan only has a 70 CFM rating so it can only be used in bathrooms up to 80 square feet. It has a very low 1.5 sone rating making this one of the quietest decorative bathroom fans available. This Hunter Garden District Series Fan also comes in a bronze finish. If your looking for a decorative fan and you have an average sized bathroom this one will get one of my highest recommendations.
Check the current price on Amazon
I hope you liked these decorative fan ideas and please leave me a comment of what is your favorite or any fan questions you may have,
Paul